Home
Welcome
For the finest handcrafted, one-on-one personal service of your restoration project, you've come to the right place.
We've been in business at this location since November 1984. We take pride in supplying top quality workmanship restoring all makes and models to as original or better than new condition. We are a fully licenced mechanical shop as well as a licenced body/refinishing facility.
Robert Forrester, owner/operator, started out as an apprentice mechanic in 1973. After joining the Tachman Car Club at age 18, he worked on hot rods for 12 years. He had various jobs in industrial mechanics and in 1984, decided it was time to follow his dreams in building show cars. With his Interprovincial licence in mechanics and autobody, he opened up Hammersteel Rustorations Inc. in Bolton, Ontario.
Committed to high quality work, he takes pride in his dedication to detail with every restoration project.
Hammersteel has a fully equipped metal shop and wood shop, as well as a indoor full size sandblasting bay which accommodates the whole vehicle body. We have a frame rotisserie and a full size body rotisserie. We're equipped to refinish complete undercarriages and bodies from beautiful street driven cars to full blown show vehicles.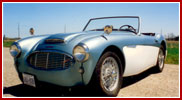 After all metal work is sandblasted, 2 – 3 coats of Ditzler epoxy primer are applied and then the appropriately coloured rapid fill primers are sprayed. We only use the best quality PPG VOC Complainant base/clear or water borne paints to ensure optimum gloss and durability.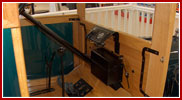 From respoking Model T wheels to building a custom box floor in your pick-up, as well as making wooden parts that can't be found, we can build it all.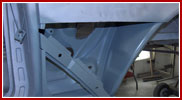 We produce 18 gauge metal work using equipment from an english wheel to custom beading with a P3 Pull Max iron worker. Pyrmid rollers and plasma cutters are also used to manufacture nearly any piece needed to restore your vehicle.